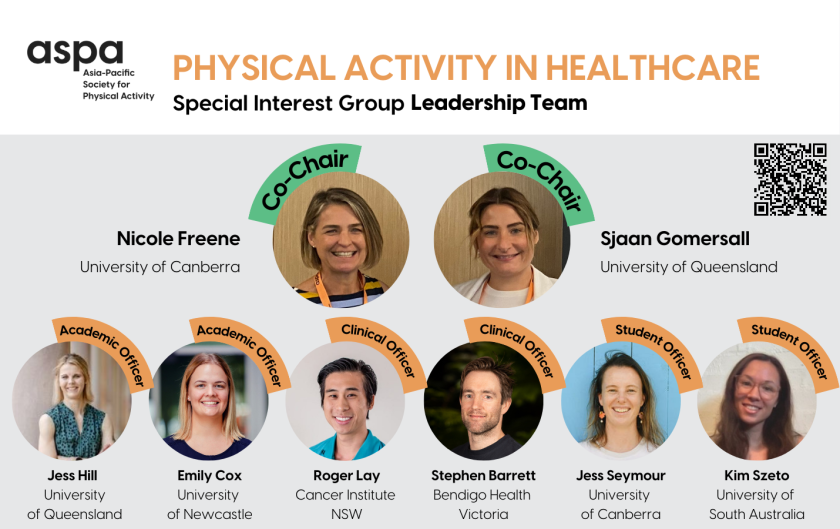 The Physical Activity in Healthcare SIG is open to members!
Physical activity promotion by health professionals is a key strategy to increase population physical activity levels and is included in key documents including the World Health Organisation's (WHO) 'Global Action Plan on Physical Activity' (GAPPA), the International Society for Physical Activity and Health's 'Eight investments that work for physical activity', and the Heart Foundation's 'Blueprint for an active Australia'.
WHO GAPPA action items outline the need to strengthen pre- and post-service training of health professionals to increase their knowledge and skills for an active society (action 1.4); and to implement and strengthen patient assessment and counselling on increasing physical activity and reducing sedentary behaviour (action 3.2). These action items are part of a multi-faceted approach to reach a 15% reduction in global prevalence of physical inactivity in adults and adolescents by 2030. In Australia these action items are an urgent priority, with only 16% of Australian health professionals able to describe the physical activity guidelines accurately1, potentially limiting their ability to take advantage of physical activity promotion opportunities.
The newly formed ASPA Physical Activity in Healthcare SIG aims to provide a mechanism for a broad range of clinicians (e.g. doctors, nurses, allied health professionals), professionals, clinical researchers and policy makers from the Asia-Pacific region to share expertise, experiences and initiatives to address GAPPA action items (1.4 and 3.2). The PA in Healthcare SIG aims to achieve this through their core objectives of professional development opportunities, networking, collaboration, and advocacy.
The SIG is looking to expand their membership and encourages those who are passionate about promoting physical activity in healthcare settings to join the group! You can find out more about the SIG here.
References
Freene N, Cools S, Hills D, Bissett B, Pumpa K and Cooper G. A wake-up call for physical activity promotion in Australia: results from a survey of Australian nursing and allied health professionals. Aust Health Rev 2019; 43(2):165-170. doi: 10.1071/AH16240.