Australian Children Becoming More Inactive — But We Have The Solutions Ready.
New report card on children's physical activity points to Australia's failings, scoring a D- for overall physical activity and D+ for active transport. The 'Three Transport Priorities' provides an opportunity for walking and riding to address these failings.
The Three Transport Priorities provide opportunities at the 2022 Australian Federal Election to address the poor and worsening scores outlined by the Report Card on Australian children's physical activity levels, published by the ASPA Active Healthy Kids Australia Committee
Dire situation
The release of the 2022 Report Card on Australian Children's Physical Activity points to alarming findings.
Not only did Australian children receive a 'D-' score for their overall physical activity levels with no improvement since inception of the report card in 2014—active transport (walking and riding) was rated as a D+, the same rating as in 2018, and progressively worse than 2014 (C grade), 2015 (C grade), and 2016 (C-).
The evidence is clear—the situation is dire, and it's getting worse. But, we have the solutions.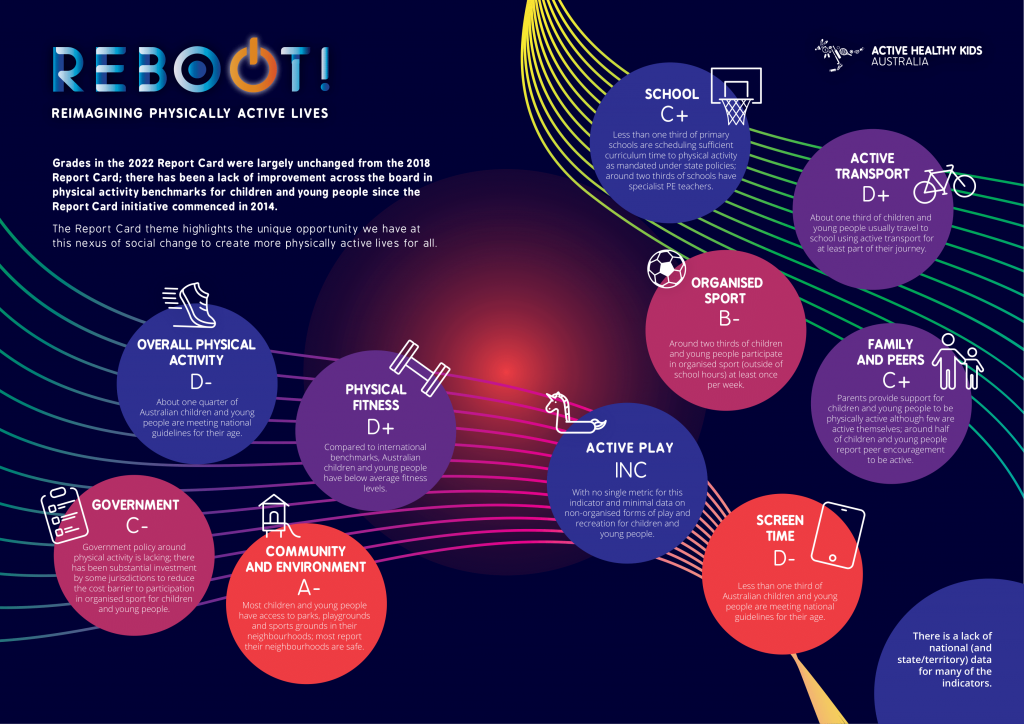 Solutions
In February of this year, along with an alliance of 13 health, transport, education and climate organisations — we launched the Three Transport Priorities for the federal election: for a happy, safe and healthy Australia – and to also save our economy billions by preventing crashes ($22bn), congestion ($19bn), and physical inactivity ($16bn).
That's a whopping $57,000,000,000 (57 billion dollars) every year!
The Three Transport Priorities are:
Lower Default Urban Speed Limits in residential areas, shopping streets and school zones.
1500m Safe Routes to School including footpaths, pedestrian priority crossings, and 'no drop off' zones.
E-Bike Purchase Subsidy of up to $1000 off for customers purchasing an e-bike.
The Three Transport Priorities now have over 25 organisations and 100 individual pledged supporters.
If you haven't already, you can pledge your support to the Three Transport Priorities
Pledge indvidual support Pledge organisation support
Synergies
With the Australian Federal Election rapidly approaching it is important we consider synergistic solutions to address children's physical activity – such as those that also address chronic diseases, congestion, climate change and traffic crashes.
When we launched the Three Transport Priorities, we knew that it was urgent to get children and their families moving more. But we also recognised the climate, congestion, crashes and economic benefits of the priorities.  
In the Report Card, traffic and school route safety, speed limits, distances between home and school, independent mobility safety, and school policies and practices were all identified as opportunities to improve Australia's grade. The Three Transport Priorities would go a long way in addressing these opportunities and improving Australia's grade.
Actions
With the release of the Report Card and the Three Transport Priorities, and the looming Australian federal election, the time to act is now.
We must all advocate for the type of world we want to see—one where children and families are safe to walk and ride, and they are supported to lead happy and healthy lives.
You are an advocate, you are encouraged to use the Three Transport Priorities and the Report Card on Australian Children's Physical Activity as tools in your own advocacy toolkit.